What is Gate of Storms (GoS)?
Gate of Storms (GoS) is a Myth II: Soulblighter server actively being run and developed to support new features like saving films straight to the server automatically. It is worked on by one of the programmers involved in the Myth2 updates.
How do I get on GoS?
Run Myth II v1.8.0 or newer. (The demo works, too.)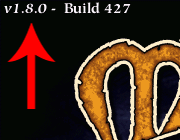 Go to Multiplayer Game.

Click on "Server".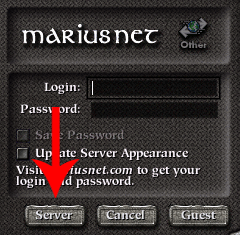 Select GateofStormsNet. Click OK.
Login as a guest with any unregistered name or login as a registered user.
To log on as a guest, type anything for your login that hasn't been registered and use a blank password. It does not have to be "Guest". On GoS, your login will be your player name. You can login as a guest to use whatever player name you choose. To register an account or know more about guests, read the next section.
Switch rooms to find other players and games.
How and why should I register?
You do not need to register to play. Guests can chat and play, but registered users have a few options guests do not. To register, make an account in the Gate of Storms forums. That account will be the same as your server account. Remember, your login will be your player name. This way no one can ever pretend to be another player. After you register, you should receive a confirmation email to activate your account.
When registering at the GoS forums, you will be asked to know the unit trading value of a Trow. This is to keep spambots from making accounts. Go to the troubleshooting section of this page if you don't know the answer or have any other issue.
Registered users can play in "Tourney" rooms. They can send private messages to others on the forums. Next time they get on the server, switch rooms, or leave a game, a blue bar message will let them know if they have any unread private messages on the forums. The server links the games and statistics of a registered user to their account which is easier to find when needed. Anybody can use the same name any guest has used and pretend to be them. If they register their chosen name, no one can pretend to be them anymore. Some future features that get added might benefit registered users over guests.
You can still add some formatting to your login whether you are a registered user or a guest. To make letters use bold, add |b before those letters. For italics use |i and |p to make it plain again. You can add these even if they were not part of it when you registered that login. The server ignores the formatting and will see "|bUs|ier" the same as "User".
I am stuck, help me? (Troubleshooting)
If you have trouble installing or running the Myth II v1.8.0 (or newer) update. Go to the Project Magma forums for help.
What is the unit trading value of trow? This question is meant to be easy to check for a Myth2 player but hard to web search for spambots. If you don't know this answer or don't have someone to ask, load up a multiplayer map with Trow. Make sure "Co-operative" is not checked first. Select "If I Had a Trow" and make sure "Planning Time" and "Allow Unit Trading" are checked. Load it and see the answer on the top.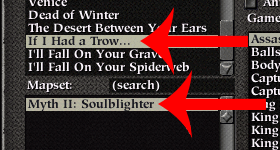 If you did not get a confirmation email (or an email when resetting your password), first check your email's spam/junk folder. If it is not there, contact admin@[this web site]. Some types of email accounts block the GoS email. While you get this sorted, you can simply log on as a guest.
If you get this message, it means you need to update your version of Myth II. If you are on the latest version, just redownload it and reinstall it as it could have gotten tweaked after you got it.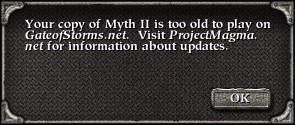 If you can't click on the "Server" button, click on the server logo button first. Then click on "Server".
For other issues, post on the Gate of Storms forums or on the Project Magma forums.
What is this "Films" icon for?
Rooms with the "Films" icon will save the film of the game you played to the server. Great for tournaments and anyone who wants to show a film to someone without having to manually upload it. If you don't want a game film recorded to the server, play in a room without this icon. You can find the films in the "Games" section of the site.
GoS Dot Commands
Dot commands are text based functions which are entered into chat to trigger certain actions. Myth 2 has some that can be used in the metaserver lobby and others in the pregame lobby when joining a game. The GoS metaserver has a few dot commands of its own that can be helpful. To see a list of available commands type ".help".
One of the more useful dot commands is ".games". This command tells you who is hosting which game. It also informs you on how long the game has been in progress, which can be useful for co-operative games.
Why go to GoS instead of MariusNet?
MariusNet has been the home of Myth II for many years, and it is still the only server to play Myth TFL, Myth 3, and Aleph One (Marathon). However, it is no longer being updated or maintained. MariusNet went down on June 2013 while its hardware had to move to a new location. The game server was down for 12 days but the website was down for about a month. At the time of writing this, parts of MariusNet were still not fully working even when the website is working.
Transitions have never gone smoothly for the Myth II player base, but the alternative is to stick to a server that is not working like it once did. GoS has been in development by one of the programmers involved in the Myth2 updates for several months before MariusNet went down. Its purpose is to support new features and encourage more tourney play.